Product Spotlight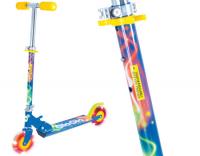 ZINC
Scooters are a big hit for children and their popularity is at an all time high. So kids will love the vibrant Zinc Glo Glo Wheels Inline Scooter. It features continuous glow wheels so that they can...
Featured Products
Staff Choices
ADVENTURE TIME Finn Bifold Wallet, White (MW161414ADV)

This white bifold wallet with a graphic motif of Finn from Adventure Time can be used to store your money and...
ADVENTURE TIME I'm A Shirt Kids T-Shirt, 104/110CM, Orange (TSY99803ADV-104)

This T-Shirt is made from high quality, 100% cotton for a long lasting
ADVENTURE TIME Finn Print Extra Large T-Shirt, White (TS291118ADV-XL)

This T-Shirt is made from high quality, 100% cotton for a long lasting
Deal of the day
DC COMICS SUPERMAN Reversible Design Backpack, Blue (BP09C0SPM)