Product Spotlight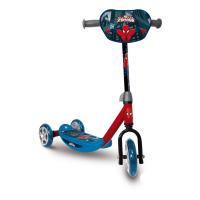 MARVEL COMICS
This fantastic three wheel scooter will provide a smooth ride thanks to its large stable PVC wheels. The large front plate on the handle bar features an impressive Spider-Man motif design and colours...
Featured Products
Staff Choices
DISNEY Mickey Mouse Waving Crew Socks, 43/46, Black (FC650316MCK-43/46)

This officially licensed pair of crew socks has a Mickey Mouse Waving motif from Disney, and is made from...
DARPEJE Customisable Mini Golf Floor Mat Puzzle (TTMZ105)

A bright and colourful puzzle with a customisable mini golf ground that has multiple possible courses which...
PAW PATROL Kid's Three Wheel Flex Scooter, Blue/Red (OPAW199)

Paw Patrol three wheel flex