Product Spotlight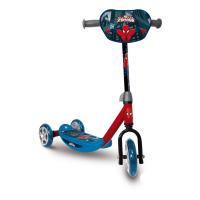 MARVEL COMICS
This fantastic three wheel scooter will provide a smooth ride thanks to its large stable PVC wheels. The large front plate on the handle bar features an impressive Spider-Man motif design and colours...
Featured Products
Staff Choices
TEENAGE MUTANT NINJA TURTLES (TMNT) Surfing Turtles All-Over Sublimation T-Shirt, Male, Medium, Multi-Colour (TS2DS7TMT-M)

A premium quality officially licensed t-shirt is made from polyester & cotton for a long lasting
DISNEY Mickey Mouse Waving Crew Socks, 43/46, Black (FC650316MCK-43/46)

This officially licensed pair of crew socks has a Mickey Mouse Waving motif from Disney, and is made from...
PJMASKS Kid's Helmet, Knee Pads, Elbow Pads & Bag Protection Pack (OPJM004)

This protection pack is ideal for children who are beginning skating, riding or any outdoor
Deal of the day
ADVENTURE TIME Sitting Finn Rubber Keychain, Multi-Colour (KE260329ADV)